Cowboy Magic 'Shine in Yellowout' – for spring 'razzle dazzle'
March 1st, 2022
After a winter of mud and stable stains, many horse owners are faced with the daunting prospect of getting back that winning appearance – but are faced with the remnants of previous months.
Once spring starts, we don't want to be reminded of the mud and grime that preceded it – which is why top grooms and show producers could not be without the miracle product that is Cowboy Magic Shine in Yellowout.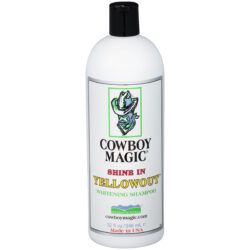 Especially useful for grey or light coloured horses, Shine in Yellowout is the ultimate stain buster when it comes to marks that have built up over time and caused hair to discolour.
Shine in Yellowout removes yellow stains from the hair, and gives dull coats a boost to promote a brilliant sheen.
The result is silky, shiny hair that smells and feels well nourished and refreshed.
Easy to use and long lasting, a small amount of Shine in Yellowout is applied to wet hair and massaged until the blue suds turn white.
After two to five minutes, the hair is rinsed and stains simply wash away.
The careful formulation is powerful yet gentle enough on the skin to be repeated, for extra stubborn stains. This amazing product even won the Horse & Rider 'BEST IN TEST' whitening horse shampoo tried and tested, beating 17 OTHER PRODUCTS.
Click here to find out more about Cowboy Magic Shine in Yellowout.
#cowboymagic
#equine
#showing
#grooming
#horses
Recent articles